Imagine you are at an airport right now. You have been stuck in a line, for a long time. You've got somewhere to be, and it's not clear if you will make it. It's uncomfortable. You're paying way too much for food and drink. It's noisy. It's crowded. The toilets are horrible. And there's nowhere to sit. You've been on your feet all day and you're getting tired. You and the people around you really need a shower.
You've also paid several hundred dollars to be here.
Now imagine you're not at an airport, but a music festival instead. And you're excited to be there.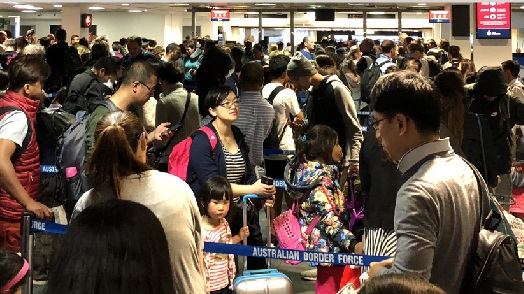 People love going to music festivals. They thrive on the social energy that these events create. French sociologist Emile Durkheim (1912) defined this social phenomenon as "collective effervescence." Sharing experiences, thoughts and actions as a crowd creates shared feelings of elation and belonging. Over the course of the day, the anticipation builds and culminates with the headline act. Long after the festival is over, attendees forget the challenges and share fond memories with their friends to relive the joy of their experience.
By contrast, airports are often perceived as an unappealing necessity one must endure to travel to an exciting destination. According to a recent study by Airfare Watchdog, half of those surveyed, said the most stressful part of travelling was the pre-boarding process of checking in and getting through security. Passengers often resent being made to feel powerless as they are herded through security checks and forced to wait for an undetermined time. Music festivals share the same challenges, however the social energy and value of the entertainment eclipses feelings of discontent.
Maintaining the conflict between the joy of travel and the stress created through the airport experience is a missed opportunity.
All too often, the approach to modern airport design conforms to a generic global standard rather than reflecting their specific region. Current airport design endeavours to create customers who are content rather than engaged. By focusing on functionality and efficiency, the design of airport cafes around the world (pictured below) lack distinction. Trying to design for everyone means you are essentially, designing for no one. No one is offended, but no one is excited either. Given the potential economic and social benefits, we should draw from the success of music festivals to create distinctive, airport customer experiences with a clear sense of place.
Trying to design for everyone means you are essentially, designing for no one. No one is offended, but no one is excited either.
What happens when customer expectation is not met?
Our experiences are defined by the difference between expectation and reality and influenced by past experiences. At the music festival, people are excited to be there and focused on what delights them, rather than what disappoints. Conversely, at airports, customers harbouring a negative expectation are more likely to notice the flaws rather than appreciate aspects of their journey that go smoothly. Any disappointing event will ultimately define their perception of the whole experience. When the airport experience has been designed for pure functionality, there is nothing more momentous to define the passenger experience. This is where we have the opportunity to intervene. There is a need to invest in creating airport experiences that excite and engage passengers throughout their airport journey.
How do we design exceptional customer experiences?
Leading airports such as Dubai, Changi and Helsinki are not just focusing on airport processes, they have shifted their focus to delivering high quality services and elevating the passenger experience. Changi airport is easy to navigate and enriched by an enchanted garden, free gaming and children's entertainment. To create experiences which are memorable, the experience design need's to be of high quality and highly differentiated. High quality experiences which lack distinction become a blur of generalities. Poor quality experiences are memorable for all the wrong reasons.
To demonstrate how to overcome these challenges, we have identified four methods for creating differentiation within airports below;
1. Differentiated spaces.
Throughout the different areas of the airport, the environments need to vary to reflect both the process requirements and customer needs. Establishing a human connection within each physical space requires an understanding of the emotional needs and motivations for customers at each point. For example, the security screening environment needs to be clinical and exude a sense of authority and safety. By contrast, the waiting lounge at the gate needs to focus on entertainment and comfort as customers wait for their flight.
2. Differentiated locations.
As the world becomes increasingly globalised and connected, customers are seeking greater authenticity and distinction from their experiences. According to consulting firm ICF International, "passengers are trending away from mass-market products and want items and services that reflect the personality, culture, and identity of the region they visit."5 As the first and last place people see as they travel through a city, airports have a unique opportunity to express the virtues of their region. Barajas Airport Madrid achieves this as its design echoes the traditional Castillian architecture of the city- making it an exciting and memorable airport to visit.
3. Differentiated offers.
To understand the broad airport audience, demographic data is useful. It is also essential to understand the individuals who make up that audience through audience segmentation. Demographics can tell you who is using a space, while segmentation will tell you why they're using it. By understanding customers in terms of the audience segment they fit within, we can then create services which cater specifically to them. Those services could include areas to relax and engage with food culture or more dynamic spaces in which to appreciate art.
4. Differentiation over time.
Environments such as airports need not be static. They can evolve over time to heighten customers engagement. Ideally, the entertainment will relate to events and reflect the dynamism of the regions in which they are situated. From our experience working on place-making cultural precincts such as Barangaroo in Sydney and TRX in Kuala Lumpur, environments are enlivened by housing a dynamic range of events. Planning out a programme of differentiated experiences which vary between the hour, day, month, and year can imbue the airport with new life each time a customer visits and elevate the quality of their experience.
In the current aviation landscape, improving the passenger experience is starting to differentiate great airports from the norm.
Music festivals along with museums or cultural institutions that demonstrate successful experience design can further inform and enliven our approach to designing infrastructure such as airports. By elevating the customer experience, we can increase the non-aeronautical revenue and bolster the airports bottom line. This will also shift perceptions of the airport experience to align with the excitement of travel.
To achieve this we need to understand our audience beyond their demographic data and use audience segmentation to better service their needs throughout their experience journey. We need to focus on place-making and creating distinct experiences that evolve over time. By creating differentiated experiences that are exceptional and memorable, you create better human experiences. When you create better human experiences, you create real and sustainable value.
This article is based on a presentation 'Can Airports learn from Music Festivals; Delivering exceptional experiences' by Büro North Experience Director Chris Thorpe. Researched and written by Communications Strategist Kate Luckins, we welcome feedback and further insights from any party with a vested interest in this topic.
Please contact kate@buronorth.com